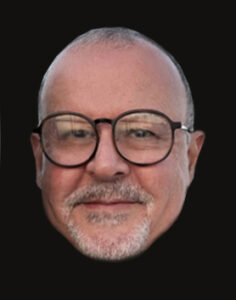 BIOGRAPHY
Mauricio Porto is a Brazilian painter and graphic designer living in New York. He has loved drawing since his childhood in Brazil. Porto received the greatest encouragement from his mother, who enrolled him in art classes with a local artist in his hometown when he was 16.
Porto developed a figurative style under a colorful concept, with a visible influence of Pop Art. The selection of themes goes from portraits of celebrities to anonymous people, always looking at the camera in expressive poses. The compositions are created with both digital and hand-drawn sketches, mixing elements such as flowers, fruits, birds, or thematic subjects. The use of customized acrylic paints for the backgrounds provides the desired chromatic effect to highlight the faces and figures, skillfully portrayed in oil. Pop culture icons and personalities such as Carmen Miranda, one of South America's icons, are readily explored in his large-scale canvases. With exhibitions dedicated to her image, Mauricio Porto's Miranda portraits have become both commercial success and critical praise.
Born on February 10, 1964, Porto has a Bachelor's in Marketing and Advertising from Rio de Janeiro. As a creative director in the advertising industry, he designed billboards, posters, magazine ads, and brochures for big companies and theater plays in Rio. In the end, it all came together towards his art, as he says in his artist statement: "I started sipping from the advertising world. The inspiration for my paintings started to come from magazine covers, ads, movies, the fashion world, and all sorts of media."
As an excellent aquarian, Porto loves culture and technology. Music is also a source of inspiration as he paints, listening to an eclectic playlist to bring an uplifting spirit to his creations. "I think the world is surrounded by too much pain; a piece of art must bring a positive vibration. Art must brighten the spectator's emotions." Porto says.
With many solo exhibitions and group shows in Brazil and abroad, Mauricio Porto has had a successful career as a painter for more than four decades.
.
About Maurício Porto's artwork
The art of the Brazilian painter Maurício Porto embraces a celebrity portrait and personality study. His dynamic depiction of people communicates the gesture of these icons in popular culture. They hide, they sing, they "strike a pose" and they are revealed. 
Porto presents the strong character of his subjects through generous lines and colors, combining portraiture with a sophisticated position in cultural mediation. His paintings can be appreciated by anyone and everyone. His images are instantly recognizable, and his talent for rendering the figure is mature and developed. The images are fun, exciting and reaffirming. In his exhibitions across Brazil and the United States he shows singers, actresses, performers or anonymous.
Porto's diverse background and sharp eye for people and their personalities is quickly evident. He skillfully blends culture, imagination and a universal media appeal. His paintings are a testament to the unrelenting power of portraiture in the hands of an excellent artist.
Text: Angela di Bello – Curator
2022 • Carmen's Spring / Tucano • Bergdorf Goodman • New York, NY, USA
2019 • Untitled • Vila Ventura Ecoresort • Porto Alegre, RS, Brazil
2017 • Happiness • Galeria DaVera • Porto Alegre, RS, Brazil
2016 • Carmen Miranda The Brazilian Bombshell • Casa de Cultura Mario Quintana • Porto Alegre, RS, Brazil
2012 • Madonna Like a Painting • Galeria Paulo Capelari • Porto Alegre, RS, Brazil 
2011 • Horses • Expointer Stand • Esteio, RS, Brazil
2010 • What The Eyes Can See • Galeria Espaço Cultural TRT • Porto Alegre, RS, Brazil 
2009 • Untitled • Galeria Paulo Capellari • Porto Alegre, RS, Brazil  
2005 • Summertime • Garagem de Arte Galeria • Porto Alegre, RS, Brazil
2001 • Faith – Unimed Salão de Eventos – Varginha, MG, Brazil
2000 • Odd Repetitions • Arte & Fato Galeria • Porto Alegre, RS, Brazil
2000 • Brazil 500 Years of Colors • Galeria Central • Elói Mendes, MG, Brazil

1999 • Untitled • Caffé del'Artista • New York, NY, USA
1996 • Untitled • Foyer Teatro Capitólio • Varginha, MG, Brazil
2022 • Chelsea Metaverse Masters • Amsterdam Whitney Gallery • New York, NY, USA
2004 • Summer Salon • Ward-Nasse Gallery • New York, NY, USA
2003-4 • Untitled • Barbara-Ann Levy • Fire Island, NY, USA
2001 • Connections To The Real • Agora Gallery / Soho • New York, NY, USA
1999 • Summer Salon • Ward-Nasse Gallery • New York, NY, USA
1998 • Artists from Minas – Assembléia Legislativa de Minas Gerais • Belo Horizonte, MG, Brazil
1986 • Art Students of Maria Augusta Procópio • Elói Mendes, Brazil
Art Fairs
2021 • ArtExpoNewYork, New York, NY, USA – Virtual Exhibition
2018-19 • Elite Design Show, Porto Alegre, RS, Brazil